coin operated Cartoon train rides
15 inch LCD; game version;
before and after the swing
W140*D120*H100cm
Description
Coin operated Electric cartoon kiide ride for kid from Prodigy, China
How to play:
1. Kids sit in the car;
2. Insert coin to start the game;
3. Game began,the machine began to swing back and forth;
4. Swing the joystick to hunting at the same time;
5. The machine automatically stops when the set time is up.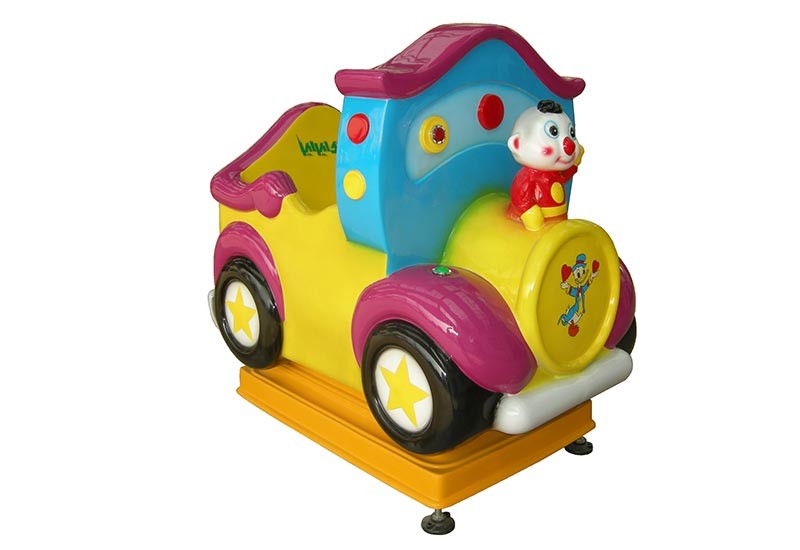 Hot and new Kiddie ride with video game , new and wonderful game mode and feeling
Three funny and vivid game to choose , different scene , funny Cartoon characters, bright colour , attract more children to play when swing .
Game kiddie ride series:
Three series games can be choosed:
(1) plane games :space shuttle game,space guardian,king fighter
(2)racing games:seaside mainland, west vally, qingyuan town
(3)speed boat games:northern waters,Mysterious strait,deep tunnle
Introduce:
1). luxury kid ride, popular and hot sell around the world market.
2). It emphasizes the safety , high quality and interestingness .
3). High quality with competitive price, the investment will be recovered within 2 months.
4). Popular children amusement equipment, insert coin or token and the ride begin to work.
5). Easy to operate and handle, coin operated, low managing cost
FEATURE:
1.Various kinds of cartoon designs
2.Sell direct from factory
3.Excellent quality ,reasonable price
4.with light , sweet music and shining color
5.Color:Various color to choose and never fade
6.Operation: Coin operated,Aceeptor the coins from different countries
7.Time and Music limited
8.user age:1-12 years old
9.Material:Fiberglass
Please fill in your procurement needs and contact information