26P Royal Crown Carousel
Code :

JX-0666

Dimension :

8.4m

Max Dia :

10m

Height :

6.6m

Voltage :

380V

Power :

10 KW

Weight :

4.5T
Description
Carousel rides amusements park carousel horse rides equipment outdoor or indoor carousel ride for children
Carousel is one of amusement park rides, amusement park carousel also called merry go round and revolving kids rider. The "rocking horses" move up and down, front and back , accompanying with beautiful music and flashing lights, children enjoy the thrill of riding on it.
Amusement park carousel are very welcomed and loved by market and children. Carousel game machine is suitable for the indoor playground, outdoor playground, Park Playground, Children's Palace, the Plaza, community, shopping mall, square, park, kindergarten, building area etc.
Main material is FRP and steel: steel frame, fiberglass decoration and horses. FRP is a good corrosion resistant material & insulating material & thermal insulation material, have high tensile strength and compressive strength.
There are 3 seats/ 4 seats/ 6 seats/ 8 seats/ 12 seats/ 16 seats/ 18 seats/ 24 seats carousel available. We have many models for carousel ,such as traditional horse model carousel, musical instrument models carousel, flower kids carousel, ocean carousel, mini train style carousel, ladybug model carousel, swan model carousel, etc
Our Carousel won The Second China Amusement Industry Ferris Award in March ,2016 for its high quality Award and Innovation Award
Unique Full Gear Instruction , Easy to Maintain
● Fiberglass reinforced plastics(FRP),
● Equipped with gorgeous lighting, great music,
● Non-fading and durable painting.
● With Remote Control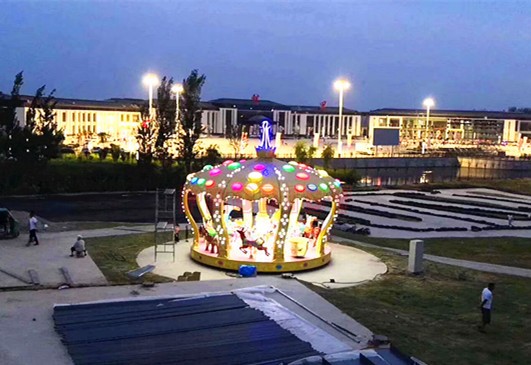 Patent :
Invention Patent No. 201510972859.3
Utility Model Patent No. 201521079428.6
Appearance Patent No. 201530478700.7
Please fill in your procurement needs and contact information